The small rural community of Dansville was selected as the kick-off site for a series of public hearings over New York's plan to open the state for hydraulic fracturing.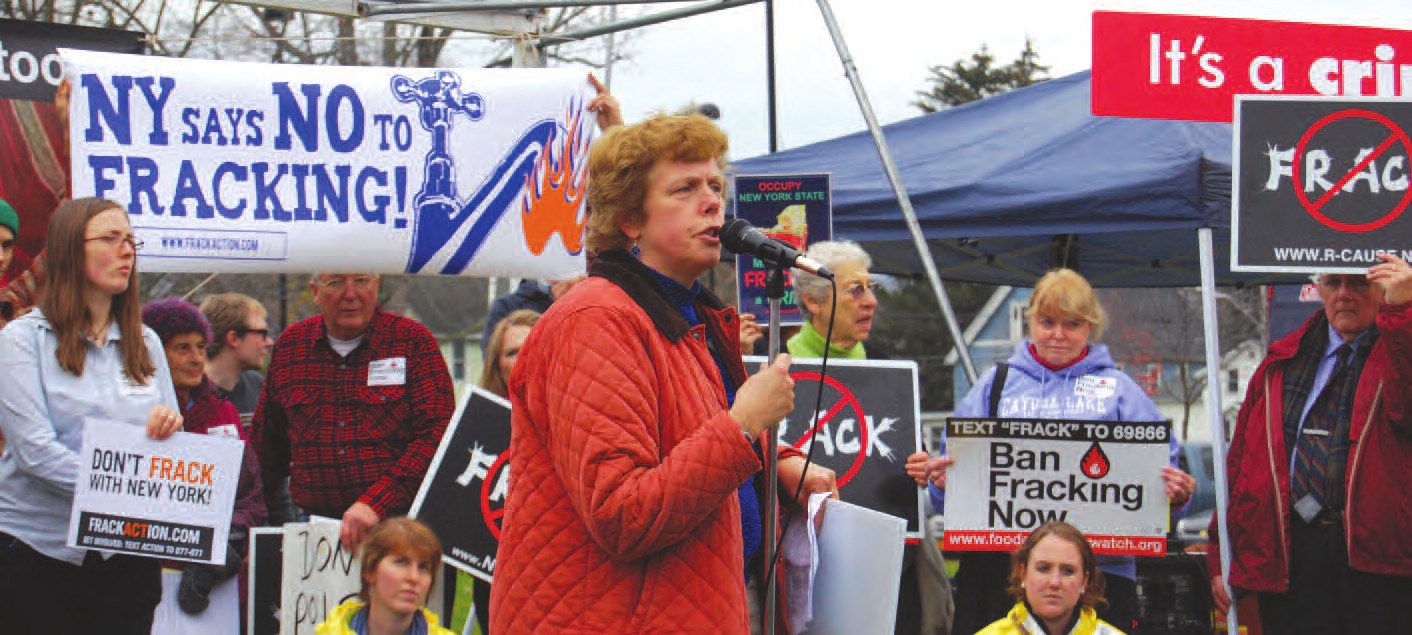 By Les Bowen for Genesee Country Express | Nov. 23, 2011 | Original source
There's not much middle ground when it comes to New Yorkers' views on the possibility of large-scale hydraulic fracturing entering the state, as evidenced in Dansville by people who lined up last Wednesday to comment at the first of four hearings across the state hosted by the state Department of Environmental Conservation.
Some 1,550 people attended the two hearings at Dansville's former middle school; less than one-10th of those spoke at the microphone during three hours in the afternoon and another four hours in the evening.
At question were more than 1,500 pages of regulations drafted by DEC officials to govern hydo-fracturing, a process of drilling into the Marcellus shale, detonating an explosion and using millions of gallons of water mixed with thousands more gallons of various chemicals in an effort to release natural gas trapped within the shale. The process of high-volume hydraulic fracturing — often called "slick fracturing" — and horizontal drilling involve technologies developed in the last 20 years. And it's not without its staunch supports nor its critics.
Pro
Proponents of hydro-fracking spoke mostly of economic benefits of moving forward with drilling and hydro-fracking.
"As long as DEC does proper regulations, I feel this could be a real plus for our community," Steuben County Legislator Robert Nichols said. "We need drilling. It's a good way to create jobs and it's a clean energy source."
Advocates of drilling highlighted some of their specific concerns:
Unnecessary setbacks.
No justifications for prohibiting drilling on flood plains and other environmentally sensitive areas.
The time spent on drafting regulations, resulting in more than 3 1/2 years in delays during a statewide moratorium.
"This will go down in U.S. history as the most expensive executive order ever issued by a U.S. governor," said Neil Vitale, an organic farmer and executive board member for the pro-hydro-fracking group Steuben County Landowners Association.
However, proponents of hydro-fracking found themselves in a minority of about 20 percent of comments made at Dansville.
Con
Bonnie Leigh, a councilwoman in Allen, Allegany County, worried that roads would be damaged, environment destroyed and local communities left on the hook for the financial cost with no compensation from drilling companies.
"How do we tell our children that we have ruined their future?" Leigh asked. Citing water resources and the dependence of agriculture and tourism on the availability of clean water, Pultney Supervisor-elect Jane Russell said, "This does not seem to be a logical place to drill and frack … Please preserve our state so we can proudly say for generations to come, I love New York."
Some speakers specifically called the DEC out on falling short of their primary purpose of protecting the environment.
"This is not true stewardship of our natural resources," Sue Staropoli of Rochester said. Specific concerns with DEC regulations cited by opponents included:
Costs for towns to defend their own moratoriums and bans.
Lack of a complete cost-benefit analysis.
Little look at the effect of drilling activities on property values and mortgages.
No public health impact statement.
No bans on dangerous chemicals despite a requirement to disclose chemicals used in hydro-fracking.
No consideration of the cumulative effect of drilling on health, transportation, environment and other impacts.
A requirement of compulsory integration of landowners who may oppose hydro-fracking, but would be forced to release mineral rights if more than 60 percent of the land in their one-square-mile drilling unit sign leases.
New Yorkers split
Upstate New Yorkers are split on the issue of hydro-fracking. A Quinnipiac poll conducted in late September found 43 percent support drilling while 47 percent oppose it. Statewide, those numbers shake out to 45 percent in support and 41 percent against.
At the same time, a majority of poll respondents said they support a new tax on drilling operations in Marcellus shale, though those numbers are down from where they were in August.
Also of note, the poll found that 46 percent of respondents had not heard or read anything about hydro-fracking.