I received a call from a student participating in a sit-in at a local school, protesting the budget cuts and forced layoffs in their school district. I arrived shortly before the group disbanded. I was the only media official to cover the protest.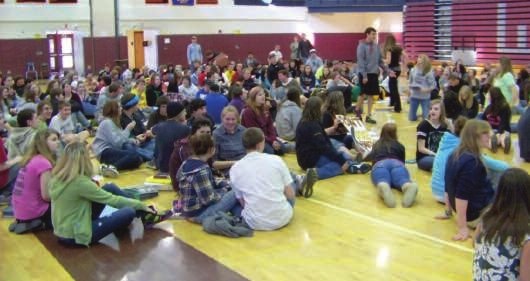 By Les Bowen for Genesee Country Express   |   April 21, 2011   |  
Original source
Close to 200 high school students gathered at the Wayland-Cohocton field house at 8 a.m. Friday to send a message to local and state education officials.
Senior Eric Martell and a handful of his peers organized the sit-in to specifically protest the elimination of two positions in the high school and more broadly the cuts in education funding across the state.
Library aide Sharyl Longwell and social studies teacher Jay Kaczmarek — "Mr. K" to his students — are among 20 district employees slated for layoffs at the end of the school year. The decision came Monday as the Wayland-Cohocton school board set its 2011-12 budget.
"These two people are loved by the student body," Martell told the Express as he stepped away from the crowd and was joined by a throng of like-minded students.
"Mr. K taught us how to think, not what to think," said Adam Tatlock added.
Classmate Erika Fleischman added, "They go above and beyond in their jobs."
For more than an hour, students with signs sat on the hardwood to oppose the layoffs.
"I genuinely appreciate that you are all here in my support," Kaczmarek told student protesters shortly after 9 a.m. He encouraged students to end the sit-in and return to the normal school day.
Martell had rebuffed suggestions from school officials previously, citing the students' right to free assembly, but after hearing Kaczmarek and speaking with school and district officials, stood to end the sit-in at 9:20 a.m.
"We made our point. They have listened," Martell said before asking students to vacate the field house. As students made their way back to their second period classrooms, several thanked Martell for organizing the protest and handed stacks of handwritten letters to senior Erika Fleischman.
The letters will be reviewed by the sit-in's organizers before they are mailed to local and state education offices.
"I'm glad we got to come here and at least voice our opinions," senior Dan Griffith said.
"We've proven as a student body we're not going to take these decisions any longer," Martell said.
He explained his concern over how the district used $92,000 in aid restoration announced in the state budget. Way-Co schools used $53,000 to keep an academic intervention position at the middle school level and decided to use the balance to offset line items across the budget. Martell said more of the funds should have been used to prevent layoffs.
School administrators commended the students for their behavior during the protest.
"We understand and we agree with them," Superintendent Michael Wetherbee said, quickly noting the fiscal impact of cuts in state aid. Despite aid restoration, district officials were left with a $1.7 million deficit in their 2011-12 budget. The school used $53,000 to restore one position at the middle school level and distributed the remainder throughout the budget. Even after cutting 20 positions, voters in the district will be asked to approve a 4.7 percent tax increase.
Layoffs decisions were faceless, Wetherbee said.
"When we sit down and talk about reductions, we talk about positions," the superintendent said.
After deciding what positions to cut, officials are hamstrung on deciding which faculty members to lay off. The state's last-in-first-out policy dictates that layoffs go to teachers with the least seniority — and often the lowest salaries.
"We're losing a lot of very good people, as schools all over the region are," Wetherbee said. "None of us want to make the decisions we are this year."
Those ideas were not lost on students at the sit-in; though they understand the tough decisions happening at the district level, they aren't happy about them.
"Why are we cutting the people who are educating us? The last thing that should get cut is education," Fleischman said.
"We're pretty lucky because we're leaving next year," senior Courtney Knudsen added. "It's definitely going to cost next generation's education."
Yet for many graduating seniors, June isn't the end of a public education experience affected by state budgets. SUNY and CUNY schools are facing $228 million in budget cuts and similar cuts are in the works at public higher education institutions across the country.
"We're still suffering, but at least we're taking a stand right now," Knudsen said.
Martell concluded,  "The message to Gov. (Andrew) Cuomo is this: Education is not the place to cut. Money needs to be restored because without education, there can be no progress. New York state will not move forward and the problems that exist in today's society will continue to derail everything we have made in the last 236 years."