Just a few weeks after my arrival as editor of the Genesee Country Express, we determined the newspaper needed a redesign and I worked collaboratively with a team from our office, assisted by a corporate task force. We accomplished the goal of transforming an outdated, cluttered design to a modern, clean look. I showcased the transition and what follows is my weekly column, introducing the new look to our readers.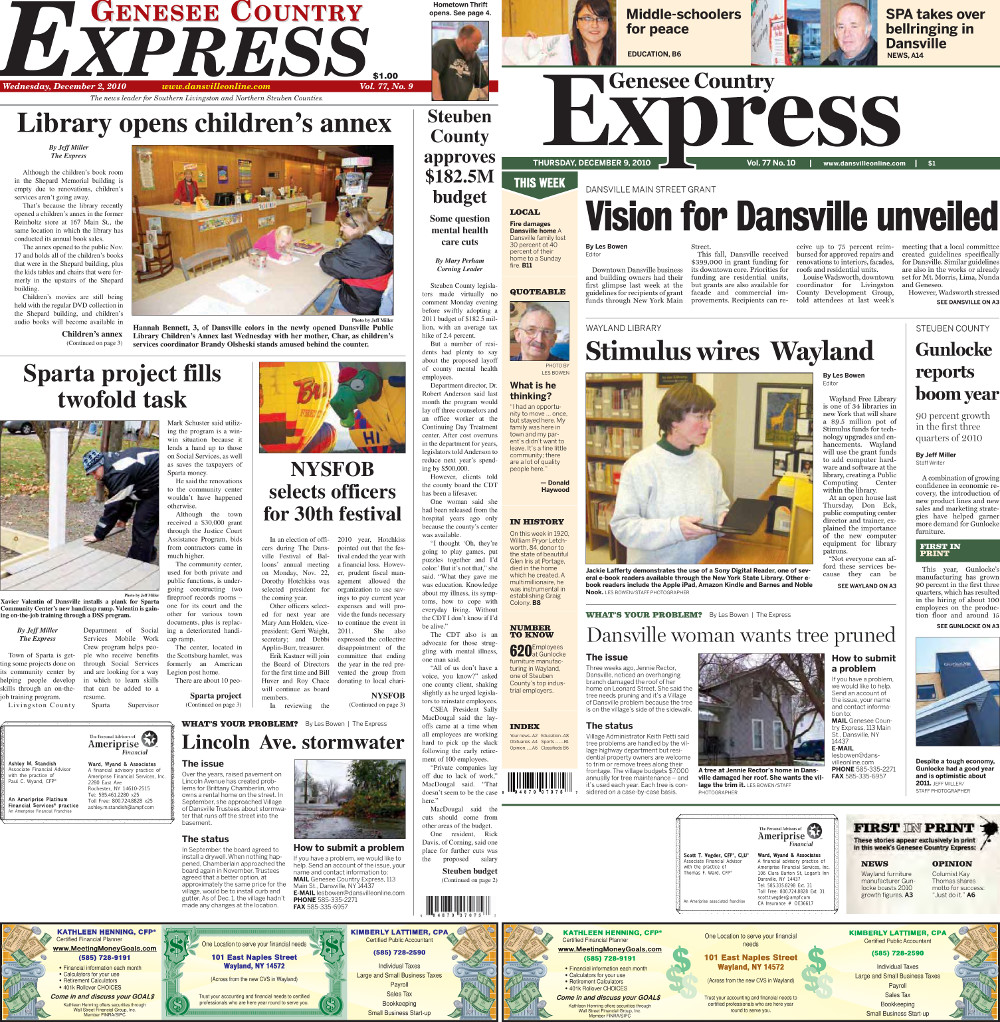 The 7 forbidden words
By Les Bowen for Genesee Country Express   |   Dec. 9, 2010   |  
Original source
A sign posted above my office desk reads as follows: "'Because we've always done it that way' are the seven last words of any organization."
Given the state of traditional media as a whole and newspapers in particular, newspapers must be willing to adapt if we intend to survive in the 21st century. So in the three months since I took over as editor of the Genesee Country Express, we've made a lot of changes. This week's edition marks the most dramatic.
We're debuting a new design, cover to cover. Though you'll still find your favorite columns and news you expect, it will look different and might be on another page. We're carrying over virtually nothing from how the paper looked last week.
It's a process that's been in the works for more than a month, including a reader web poll last week where we asked you to pick our new nameplate (contest winners listed on page A2).
As soon as we sent last week's edition to press, the newspaper staff began the process of transitioning to our new logo and the new look of the paper. When we asked around the office, no one could remember the newspaper taking this dramatic of a change in appearance. That's at least 10 years – all the way back to when Jennifer Burley started on our composition team in 2000.
But the new Express is a lot more than a face-lift. We're introducing several elements asking for reader involvement.
For the last month, we've included a call for reader photos and other submissions. We're still taking letters to Santa this week and we're excited to read the Christmas wishes of kids in our local communities.
This week, we've launched an entire page, anchored on A2, called "Your News." It is exactly what the name states: a page entirely reader-generated content – like the Santa letters.
Our weekly web poll has a new home starting this week on the Opinion page.
Since May, we've been making a push toward our website. Photo galleries, audio clips, polls and breaking news are giving our Web readers an experience we can't produce with ink and paper. This week, we're giving something to our print readers. We're calling it "First in Print." The premise is simple: we select some stories – two or three a week – and release them to our print readers first. Consider it our way of saying thank you for your subscriptions and newsstand sales.
So here it is: the new Genesee Country Express. Please, let us know what you think. We hope you like it as much as we do.