After 45 years, East Carbon High School shuttered its doors. The decision by the school board came just a few weeks before graduation. My assignment was to catch the last days for students and faculty as they finished the school year. We'd already covered the decision from the board in an issue several weeks earlier. In this issue, another writer focused on the impacts to the small community of fewer than 2,000 residents who would be lose their high school and community center.
By Les Bowen for Sun Advocate   |   May 31, 2005   |  
Original source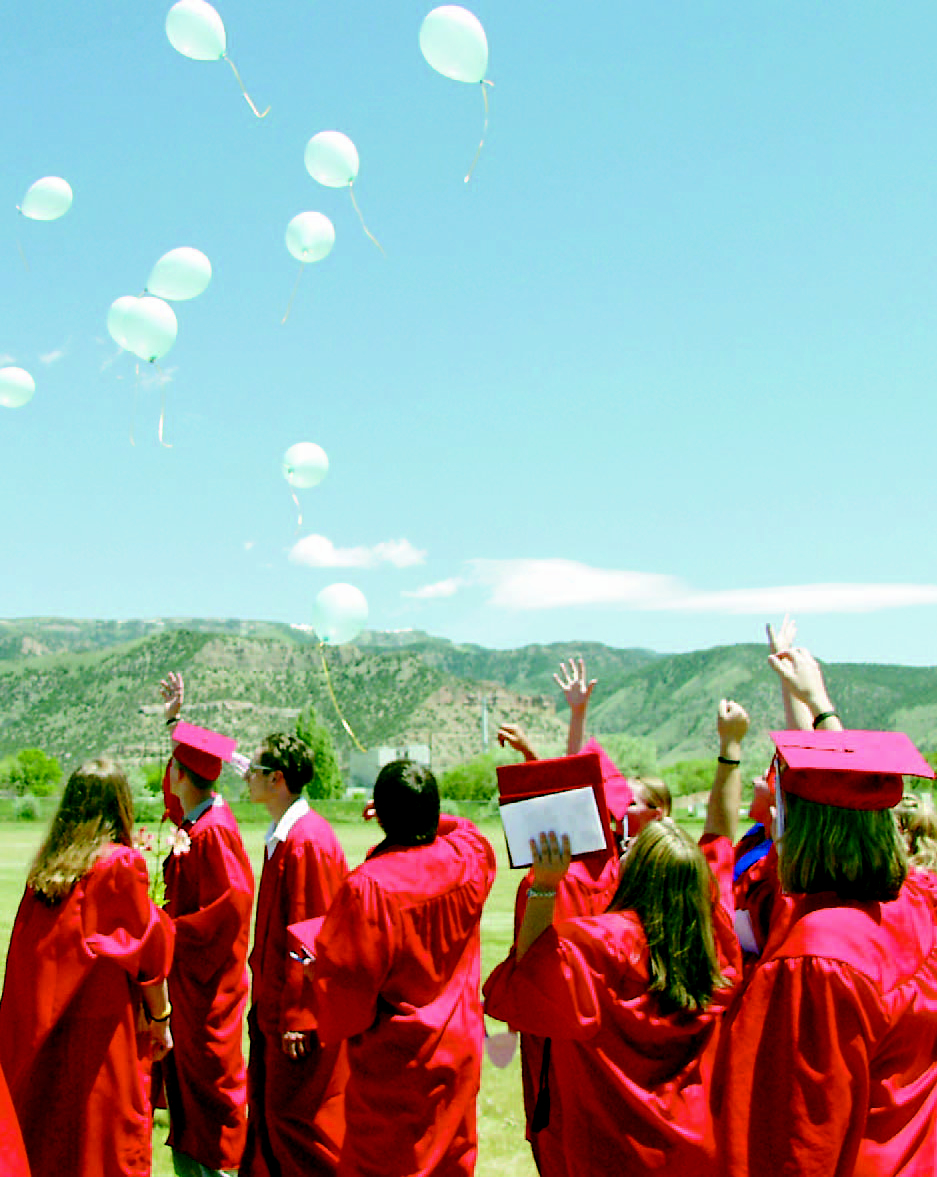 East Carbon High School's bells rang to dismiss class for the last time on Thursday. Graduation began at 1 p.m., and seniors at the ceremony spoke for more than just their class. This year's Viking graduates will be the last at the 45-year-old high school.
"We're not just here to celebrate our graduation, but the last day of East Carbon High," said a tearful Samanth Madrid, senior class president.
Valedictorian Amanda Hepworth  struggled as she approached the podium. The normally cliché remarks about change and moving on were more poignant as she applied them not only to the 17 in the class of 2005, but to the rest of the 120 students who attended East Carbon High this year.
Earlier that day, students cleaned out their lockers and checked out of school.
"The kids did very well. It was tough, and there were a lot of tears shed, but we made it," said Principal Carol Wells, who is taking the position as principal of Peterson Elementary in the fall.
"Reality set in. I think before [graduation] we were too busy getting ready to move," said Vera Clark, who graduated from the high school in 1965 and has taught there for the last 16 years.
Clark, however, was quick to add that a lot of students have gotten excited to go to school in Price next school year.
"They saw they could go there and take a lot of classes they didn't have here," Clark explained.
Many of the students tried out for and will participate in activities such as sports, choir, drill and cheerleading at schools in Price.
However, Clark was saddened as she has to give up teaching her seventh grade math class.
"My class had higher CORE test scores than anyone in the district for the last four years," she boasted. But she pointed out that she doesn't have the certifications to continue teaching math, and so she will be teaching home economics at Mont Harmon in the fall.
Returning students at the high school and the sixth grade class at Petersen Elementary will travel the 28 miles to Price in the fall to go to school at Carbon High and Mont Harmon Junior High.
And most of the full-time faculty from ECHS will join them in Price. Each member of the faculty was placed at schools around the district. Mont Harmon Jr. High will take seven teachers, two custodians, a secretary and a counselor. Two teachers will go to Carbon High and one teacher will divide time between the Lighthouse and Helper Jr. High. Another teacher was originally placed at Helper and the Lighthouse, but has accepted a position in Las Vegas.
Wells explained that the two part-time faculty members who were not offered positions elsewhere in the district will likely be offered positions as the district continues to prepare for the next school year.
Books and shelves from the library will go to the Lighthouse, which has never had a library. The Lighthouse will also get a computer-aided drafting lab along with a teacher, Levan Hall, to teach drafting courses.
Some memorabilia, including a wall clock with the Viking mascot, basketballs embossed with the letters ECHS and prom mugs were given away in a raffle on Thursday. Other memorabilia, including trophies and yearbooks, will be housed in East Carbon's City Hall.
A complete set of yearbooks will also go to College of Eastern Utah's library for archiving.