I was a working editor when I wrote this breaking news piece. I gained close access to the aircraft because I had a strong working relationship with the county sheriff, who drove me to the scene. The story and several accompanying photos were later picked up by statewide media.
By Les Bowen for Vernal Express   |   June 25, 2008   |   Original source not available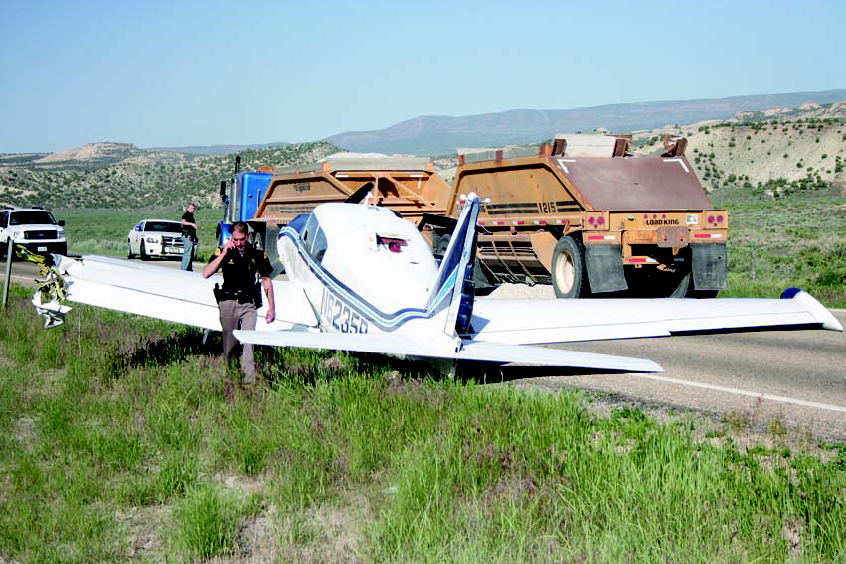 The occupants of a small plane suffered minor injuries last week when the pilot made an emergency landing on U.S. Highway 191 north of Vernal. The incident occurred just north of Steinaker Reservoir a few minutes before 8 a.m. Wednesday.
"The pilot said he had engine trouble," said Utah Highway Patrol spokesman Cameron Roden.
As the pilot of the 1959 Piper attempted the emergency landing flying north over the highway, the plane collided with a southbound semi-truck hauling two trailers loaded with gravel.
According to UHP reports, the left wing of the plane hit the front of the truck, sheering off nearly half the wing and sending the plane spinning counterclockwise. The plane collided with the second trailer before coming to rest behind the semi facing the opposite direction it had originally landed.
Bart Hyde, 45, of Layton, was flying the plane with his son 17-year-old Austin Hyde as a passenger. Both were transported by ambulance to Ashley Regional Medical Center. Roden said the two were in fair condition. The pilot had injuries to his face and the passenger had an injured arm.
The driver of the truck, 27-year-old Jody Pixton of Bluffdale, was not injured.
"We don't foresee any citations," said Roden, adding that the matter will be turned over to Uintah County Attorney's Office for review.
Though the highway was not completely closed, UHP turned non-essential traffic away from the crash site and reopened the highway to all traffic shortly after 10 a.m.
The truck Pixton was driving, operated by Barett Trucking, was towed from the scene. Debris from the plane and the fuselage were removed from the road but left on site until Federal Aviation Administration officials were able to perform an investigation.
A spokesman for the FAA said Friday the agency had concluded its investigation and would be turning the findings over to the National Transportation Safety Board. The results of the NTSB report have not been released.