This was my first exposure to youth in agriculture. I interviewed two sets of siblings in two parts of our coverage area about their experience raising livestock as part of FFA and 4-H.
By Les Bowen for Vernal Express   |   June 4, 2008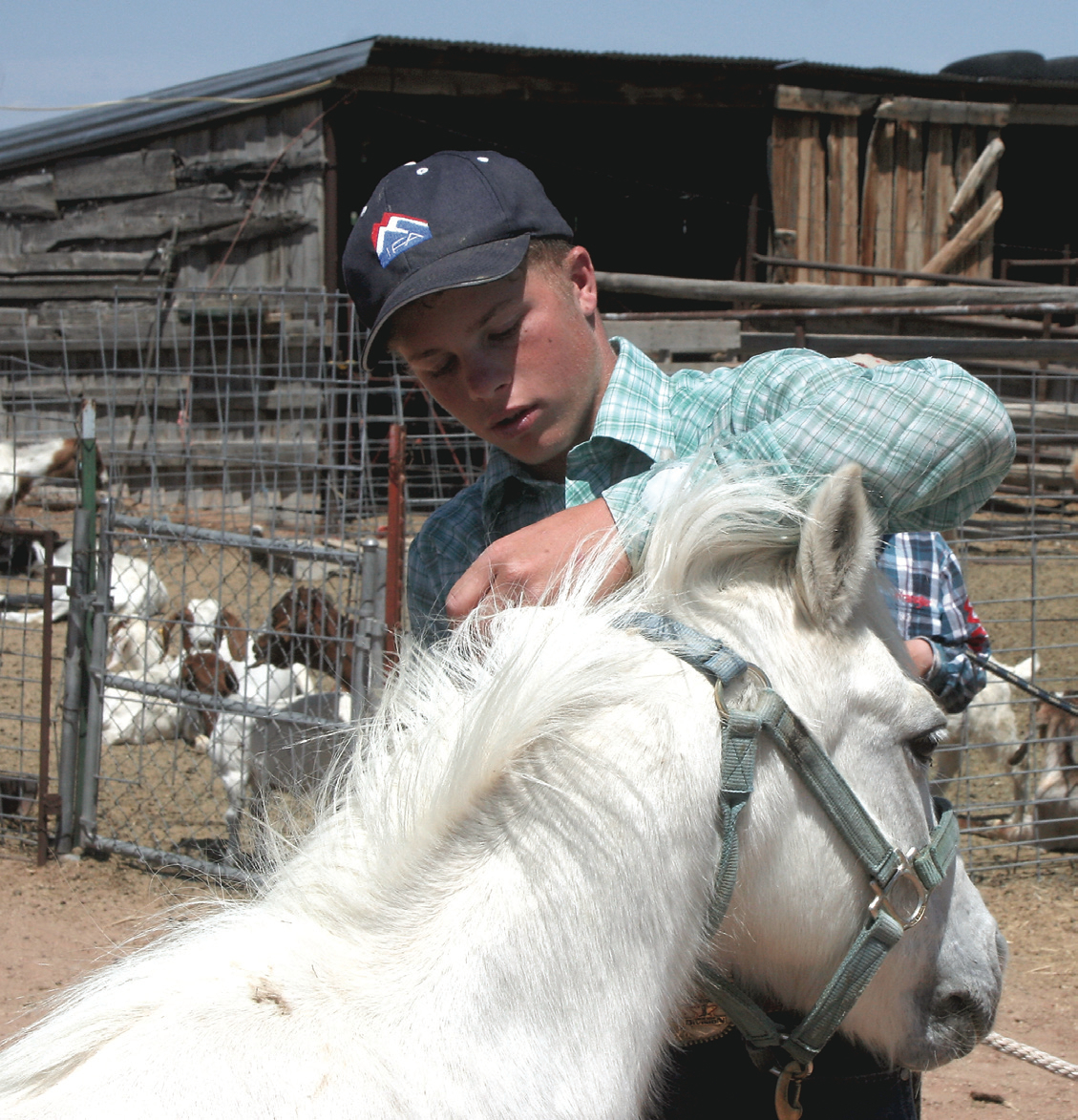 Most kids' college funds are deposits in the bank. But for several families in the Uintah Basin, the college savings plan is a different kind of animal – or rather, a whole herd of animals.
"It's a good deal for the kids," said Lisa Frost. "It lets them see how money is spent."
She and husband Shane and their family run more than 300 cattle on more than 850 acres in Randlett.
Two of their kids, Joe and Josh each own at least 10 animals in the herd. And if that isn't enough work, they've worked through the last year with steer and pigs to get them ready for competitions in the Uintah Basin and elsewhere in the West.
"I bet they've both put on another hundred pounds," said Joe of two steers he and younger brother Josh are showing this week at the Junior Livestock Show in Vernal.
Joe is a freshman at Union High School in Roosevelt, where he is a member of the FFA chapter.
Josh, 12, has been showing animals since he was in third grade.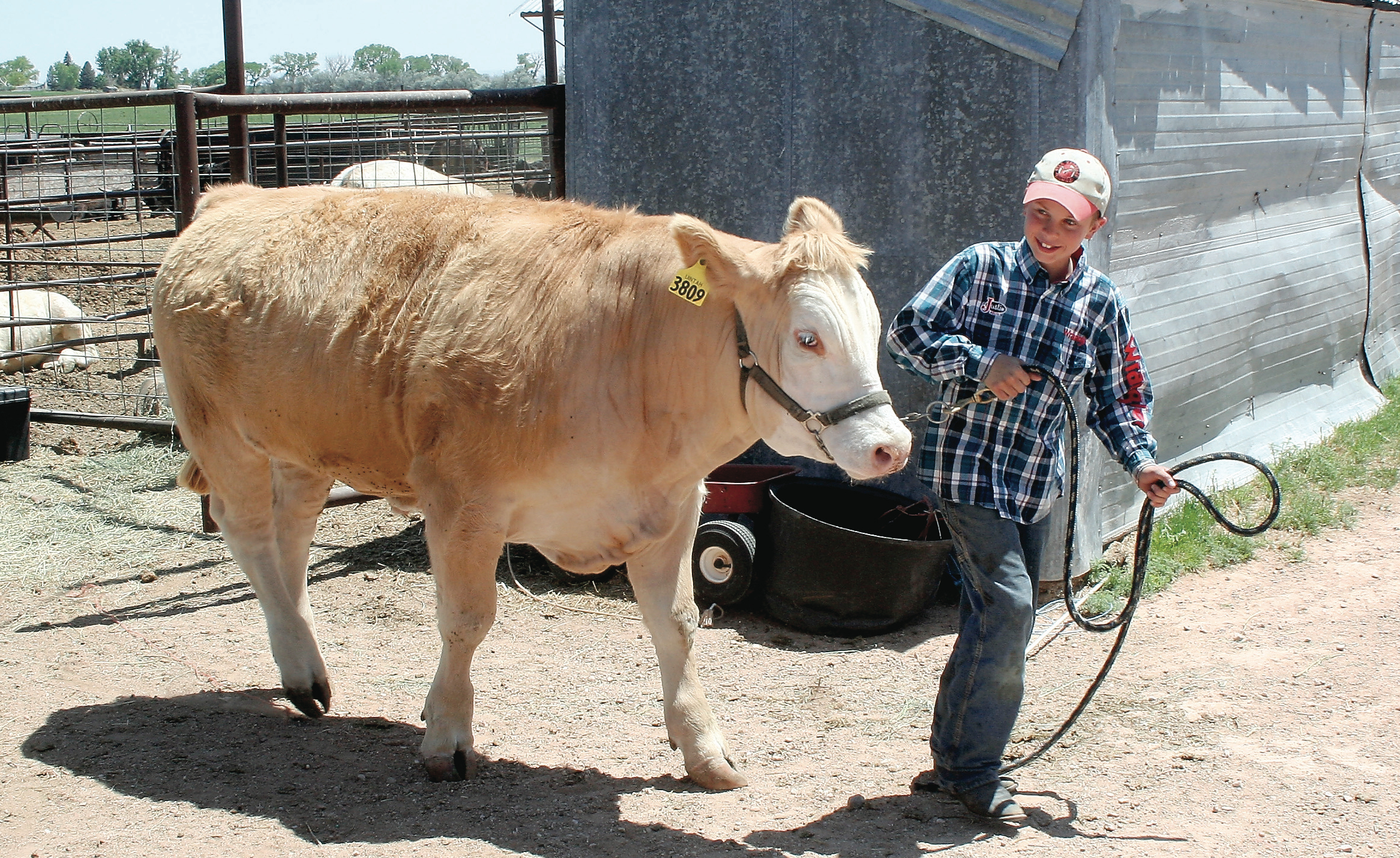 When they weighed their steers, they were both above 1,100 pounds – a healthy margin above the 1,000-pound minimum required for competition. Last fall the steers just half the size.
"I think the steers are the hardest to raise," said Josh. Work on the ranch begins early, with animals fed before school.
But the show animals take a lot more work later in the day.
"It takes a lot of work," said Josh. "It's a challenge to handle a steer."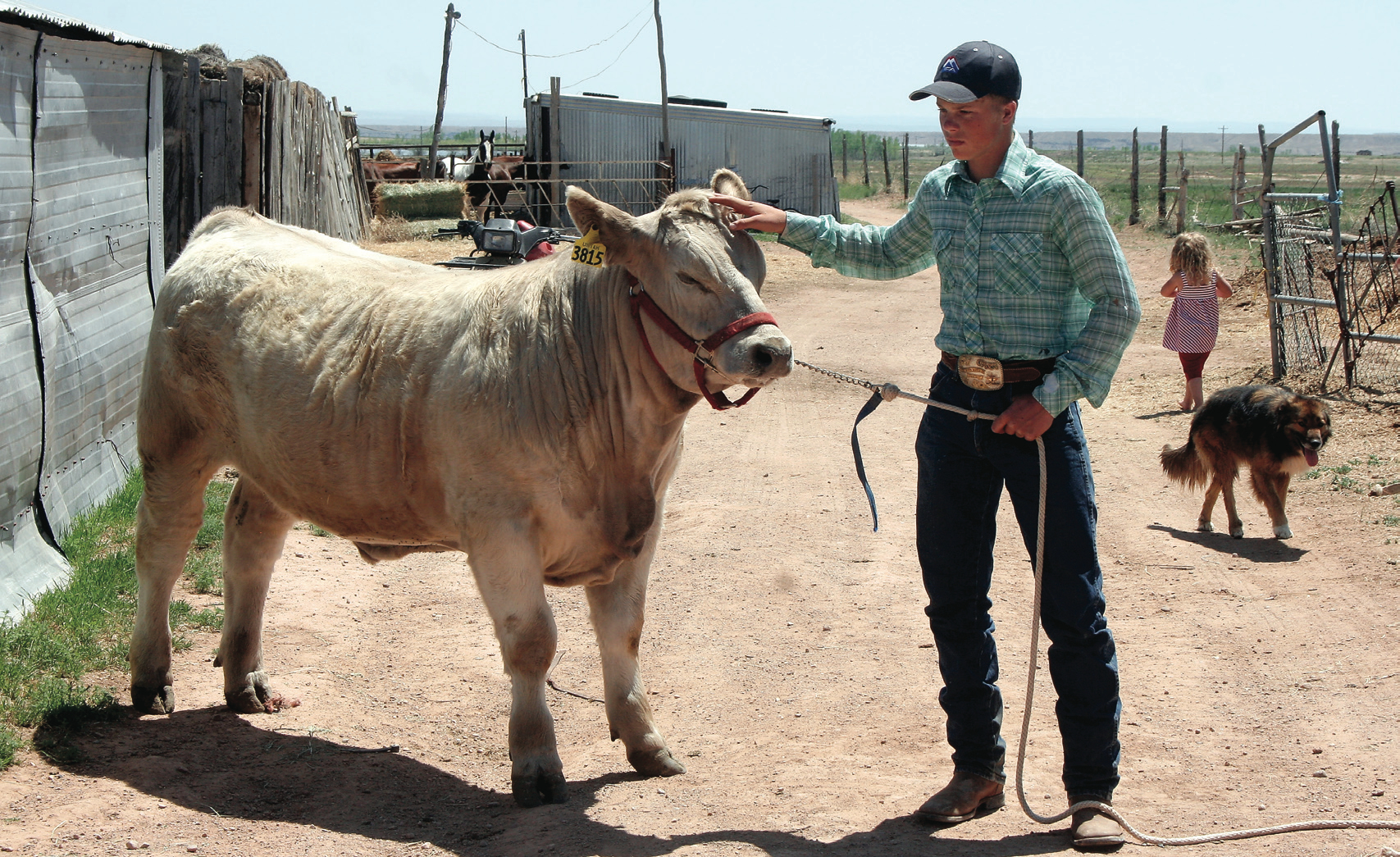 Brett and Donni Woods' family runs a ranch in the Maeser area. Like the Frosts, Brody, age 10 and Jadon, age 14 own several head of steer, along with pigs and horses.
As early as age 10, kids can apply for loans for livestock. In addition, Jadon and Brody each have several acres of ranching land in their names.
Of some 250 pair of cattle, they each own 75 pair, including 35 mother cows each.
"A lot of work goes into grooming – blowing and combing," explained Brett.
For contrast, he said a horse can be groomed and ready for show in a competition in three or four hours. Steers on the other hand, take three of four days of grooming.
And that's in addition to the daily training regimen to get a steer to behave its best at the show.
Judges look at all aspects of the animal – stance, body build and coat, just to name a few criteria for steers.
Similar criteria are used for pigs. Jadon explained that judges will be looking for a long lean animal with big hams and lots of muscle, combined with a flat back.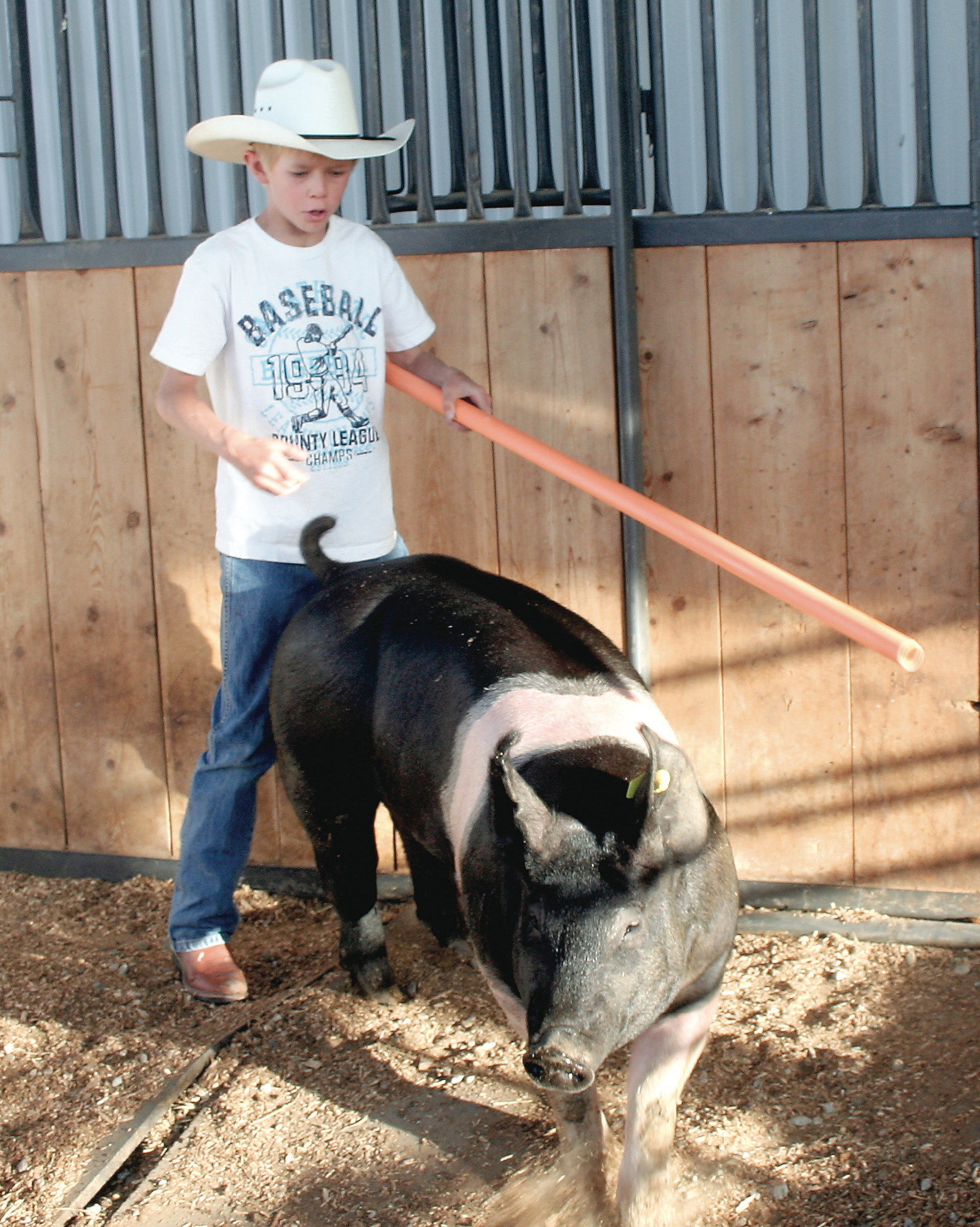 She and Brody demonstrated using a pole to guide a pig as it walks in front of judges. "I've done really well in showmanship," said Jadon. "I've won a few times with pigs and steers."
Brody boasted a reserve grand champion award for his steer in last year's Junior Livestock Show.
Joe has won reserve grand champion in goats. He's also taken showmanship third, second and first over three years he's showed sheep in Duchesne.
And he's taken awards for pigs in the past as well.
"It's a lot of fun," said Jadon. "You learn a lot about the animals."
"You get to meet a lot of new friends," added Brody.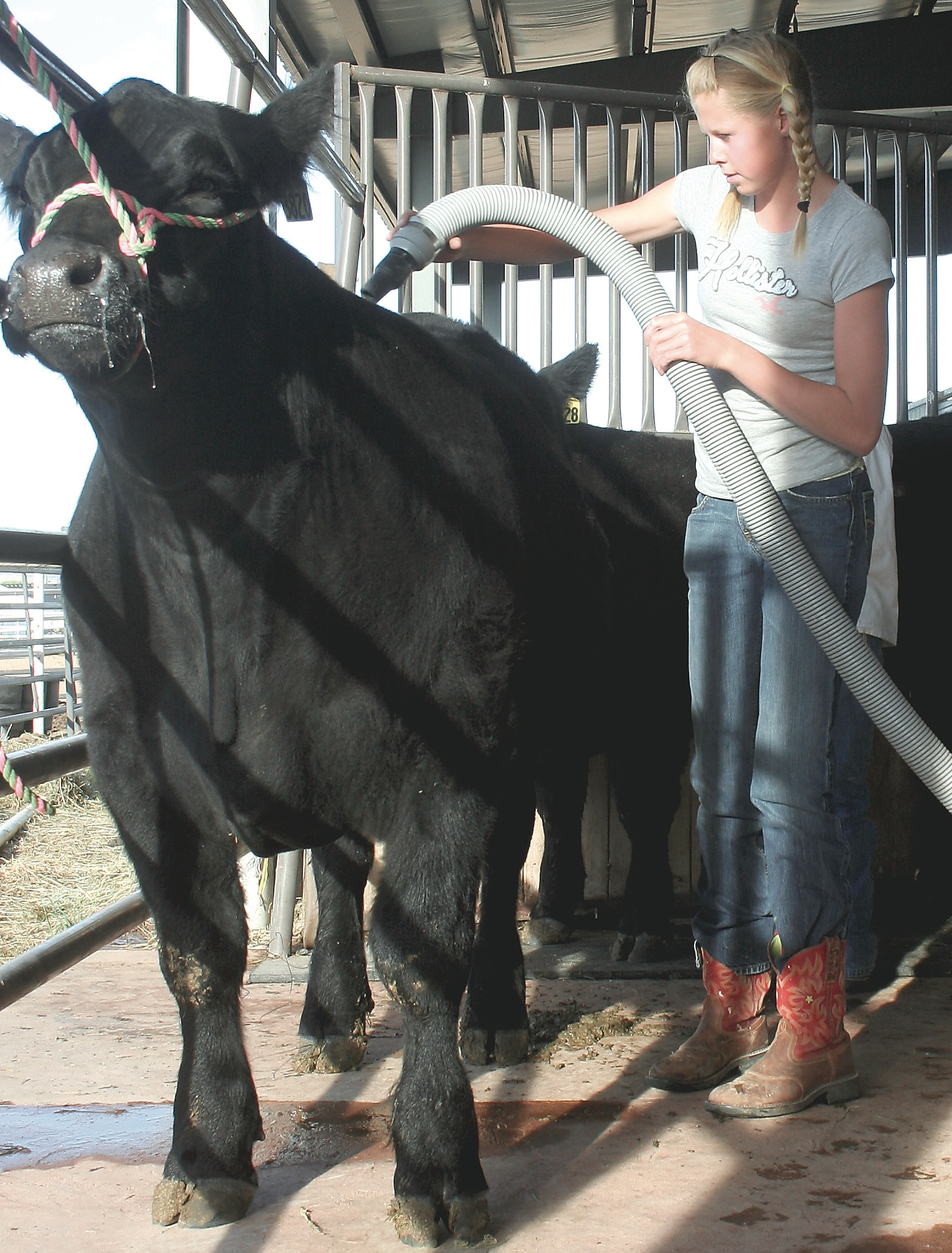 And for both the Frosts and Woods, livestock shows are just the start.
The Woods were gone last weekend showing horses and they also compete in rodeos and other events.
The Frosts will take off for state rodeo finals for Josh as soon as the livestock show is through this week. The following week, Joe will be headed to high school rodeo finals.