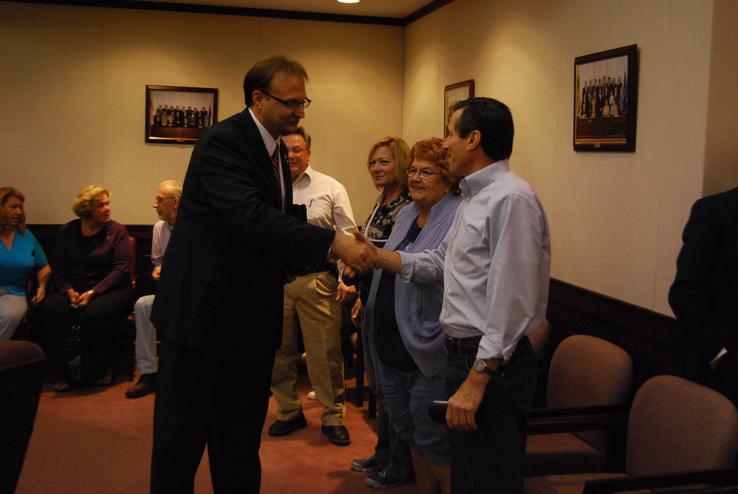 Livingston GOP picks Eric Schiener for DA
Republican nominee will face Democrat incumbent Greg McCaffrey and 3rd-party challenger Steve Sessler
By Les Bowen for Genesee Country Express and Hornell Evening Tribune
Oct. 5, 2012   |  
Original source
A three-week battle that followed the Livingston County Republican primary for District Attorney wrapped up Thursday night when party committee members voted overwhelmingly for Eric Schiener.
He will face Conservative Party candidate Steve Sessler and Democratic incumbent Greg McCaffrey in the November general election. Schiener secured 88 votes of the 100 cast by committee members and 86 percent when accounting for weighted votes. He carried every town except Lima, which was an even split.
"I've been called a lot of things this summer, but yesterday was a first. I was called a political insider," Schiener said in accepting the committee's nomination. He was referring to Sessler's unsuccessful attempt to have a court shift the tied primary vote in his favor. In arguments Wednesday in Rochester, Sessler's team accused election officials of altering votes for political gain.
Candidates and county election officials went to court twice since the Sept. 13 election and Sessler attempted a third court hearing Thursday with an unsuccessful appeal of one of 7th District Supreme Court Justice John Ark's rulings.
"That was disappointing," Schiener said. "My conservative opponent promised not to appeal and the ink wasn't dry when he was back at the judge's door."
Sessler clarified that he said he would not appeal the judge's Oct. 3 decision related to a miscounted absentee ballot, not the Sept. 29 ruling on seven contested ballots.
After last night's vote skewed against him, Sessler said he had hoped the committee would have followed the voters with a more balanced split.
"I'm not the choice of the Republican Party; I'm not the choice of the Democratic governor out of Albany. I'm the choice of the people," Sessler said. He added that the choice to turn the race into a three-way campaign was in the hands of the county GOP committee.
Sessler released results of an internal poll earlier in the day, claiming a 9 percent lead over Schiener. Pressed for details about the poll, his campaign was unable to provide a margin of error for the poll. The Express figured the margin of error was more than 4 percent, leaving the candidates less than 1 percent apart. Further, in the phrasing of the question, pollsters discounted any votes for McCaffrey.
"The numbers are the numbers. It's clear that I have not only the support of half of Livingston County's Republican voters, but widespread support among the county's Conservative and Independent voters as well," he said.
Schiener said his campaign was not about partisan politics.
"Prosecutors don't know parties, they can't play politics," Schiener said. He pointed to the relationship of district attorneys throughout the state as they cross party lines to work together.
In looking at the three-party race to November, Schiener said he was ready. In both his acceptance speech and in an interview that followed, Schiener rolled out a campaign line, that he seeks to be a Livingston County prosecutor in the Livingston County DA office.
"I'm ready to start tomorrow," he said.
Attempts to reach McCaffrey for comment were unsuccessful.